Luxury Travel Services Exclusively for You
Renaissance Banquet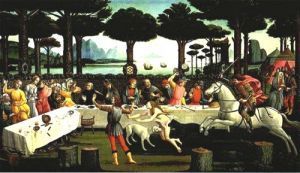 Thanks to our background in Film and Theater and our the collaboration with many creative professionals, we are excited to present you an extravagant feast awash with endless fun, fantasy and folly.
Guests can be dressed in a costume of the era from the wardrobe of one of Florence's best known theaters.
After the introductions, guests will be tempted by a selection of gastronomic delights and dishes based on traditional Renaissance recipes.
A playful court jester and juggler will lighten the formalities and entertain you for the evening with jokes, music, acrobatics, fire shows, drums beatings and various 'Tom Foolery'. All entertainers involved are experienced professional actors and musicians specialized in Renaissance, Baroque and nineteenth century music.