Luxury Travel Services Exclusively for You
Guided Tour in PISA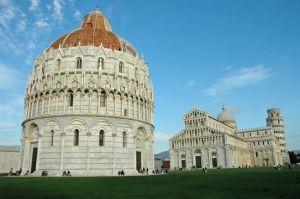 Pisa is famous around the world for its leaning tower, tribute to both human ingenuity and folly. The tower is part of the beautiful cathedral complex, whose architecture mixes Moorish, Byzantine, and Roman motifs recalling Pisa's glorious past as a Mediterranean seaport. Around the Campo dei Miracoli, the square of miracles, we find the Cathedral of Santa Maria Assunta, the Campanile (the leaning bell tower), the Baptistery and the Camposanto, monumental cemetery.

Suggested as Half day tour


Transportation service on demand.