Luxury Travel Services Exclusively for You
Exclusive Wine Tours in MONTALCINO & MONTEPULCIANO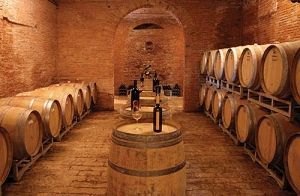 This tour concentrates on two hilltop jewels of wine: Brunello di Montalcino and Vino Nobile di Montepulciano. The Brunello, a rich, robust pure Sangiovese, is one of the handfuls of DOCG wines hunted by wine collectors for its depth of flavor and potential to age for decades.
In nearby Montepulciano, the Vino Nobile has been praised by popes and princes alike for centuries for its elegance and "noble" structure.

The tour will start around 11 am in the first of the two wineries. Before the tasting, you will enjoy a tour of the entire vineyard including a stroll through the vines continuing on to the cellar where you will be shown the various stages of wine production - fermentation, maturation, aging, etc.
The wine tasting is usually accompanied by typical Tuscan dishes and guided by the owners/winemakers.

The second winery, although still adhering to the strict guidelines imposed by the region, always differs from the first in its style and methods of production, allowing you to experience and to compare the contrasting characteristics of the two wineries, that reflect the strategy and the personality of the wine makers.